2018 Garite Mini-Sabbatical Recipients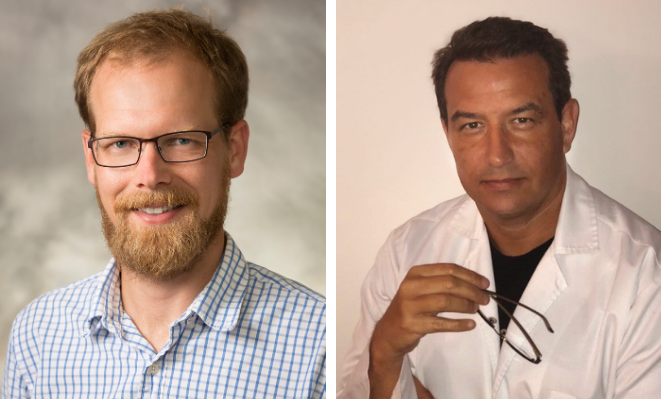 Pictured above (left to right): Drs. Michael Dombrowski and Jose Enrique Sanin Blair have been selected as the recipients of the 2018 Garite Mini-Sabbatical Grants.
Dr. Dombrowski is a third-year MFM fellow at Yale University. He previously completed both OB/GYN residency and Surgical Critical Care fellowship at the University of Michigan. He will be completing the American College of Chest Physicians Critical Care Ultrasound training program to become certified in point of care ultrasound (POCUS), with the aim of rapid, bedside assessment of maternal cardiovascular complaints. As he completes the course and collects images for the certification exam, he will be mentored by Dr. Rachel Liu, an Emergency Medicine physician at Yale who is director of their POCUS education program. His long-term goals are to educate other providers and to conduct research regarding the utility of ultrasound in caring for an increasingly medically complex obstetric population.
---
Dr. Sanin Blair is a maternal-fetal medicine specialist at Universidad Pontificia Bolivariana in Medellin, Colombia who completed his MFM training in Barcelona, Spain. His six-week mini-sabbatical will occur in March 2019 at the Texas Children's Fetal Center in Houston under the mentorship of Dr. Michael Belfort, MD, PhD. He intends to learn about modern laparoscopic techniques for performance of fetal surgery, specifically for repair of open neural tube defects. He will also take part in ongoing research processes at this multidisciplinary center to expand his experience and horizons as an investigator, teacher, and care provider in his country and in Latin America.
Learn more about the Garite Mini-Sabbatical Grants here.