2018 Queenan Fellows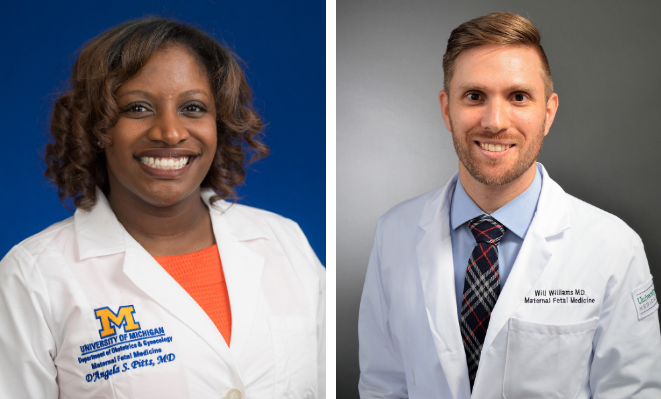 Pictured above (left to right): Drs. D'Angela Pitts and FB "Will" Williams have been selected as the recipients of the 2018 Queenan Fellowships for Global Health.
Dr. Pitts, a second-year Maternal-Fetal Medicine Fellow at the University of Michigan, is the recipient of the Visiting Teaching Fellowship and will spend two months as a visiting faculty member at Korle Bu Teaching Hospital in Accra, Ghana in March and April 2019. She will interact with their staff and physicians through lectures and presentations in high-risk obstetrics relevant to resource-limited settings, continuing the efforts of Dr. Timothy Johnson and Dr. Lucie Moravia in Ghana. She plans to incorporate global health work into her career in academic medicine as an MFM.
---
Dr. Williams, a second-year Maternal-Fetal Medicine Fellow at the University of Vermont, is the recipient of the Investigator-Initiated Research Project Award for his project, "Maternal Histoblood Group Antigen Genotype as a Predictor for Rotavirus Vaccine Response in Breastfed Infants in Bangladesh." His project mentors are Dr. Benjamin Lee and Dr. Marjorie Meyer from the University of Vermont and Dr. Jeffrey Stringer from the University of North Carolina. His research interests include health disparities, maternal comorbidities and health systems strengthening.
Learn more about the Queenan Global Health Awards here.