2019 Garite Mini-Sabbatical Grants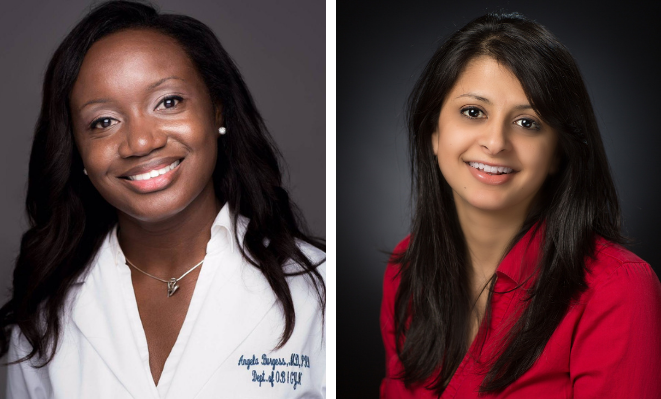 Pictured above (left to right): Drs. Angela PH Burgess and Tani Malhotra have been selected as the recipients of the 2019 Garite Mini-Sabbatical Grants.
Dr. Angela PH Burgess, a third-year Maternal-Fetal Medicine Fellow at Baylor College of Medicine in Houston, will conduct a research project "Contribution of Antenatal Maternal Stress to Biologic Markers in Placental Tissue Linked to Preterm Labor: An Evaluation of Health Disparities Utilizing Everyday Discrimination Scale." Dr. Burgess will spend six weeks at the University of California, San Francisco under the mentorship of Brittany D. Chambers, PhD, MPH. Through this pilot study, Dr. Burgess hopes to obtain information regarding feasibility and scalability of a larger trial, refine methodologies, and validate the Edinburgh Postnatal Depression Scale across racial and economic strata when comparing biologic equivalence among parturients using the robust methods described by Dr. Chambers and her team.
---
Dr. Tani Malhotra, a second-year Maternal-Fetal Medicine Fellow at Metrohealth Medical Center in Cleveland, was selected for her proposal "Understanding the development and implementation of public health policy as a maternal-fetal medicine specialist." She will spend six weeks in the spring of 2020 in Washington, DC, mentored by Katie Schubert, SMFM's Chief Advocacy Officer, and Dr. Dana Block Abraham, an MFM whose research focuses on health advocacy. Through this mini-sabbatical, Dr. Malhotra hopes to better understand the process by which public health policy is developed, improved and implemented, allowing her to advance her skills as a patient and physician advocate.
Learn more about the Garite Mini-Sabbatical Grants here.