July 1 Deadline Applications Now Open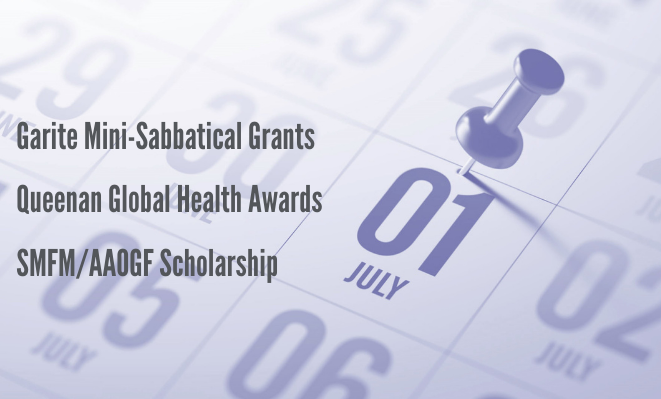 The Foundation for SMFM is now accepting applications from SMFM members for the following programs:
SMFM/AAOGF Scholarship
Our premier three-year research training grant is designed for future academic physician leaders who seek additional training that will pave the way to a productive career as a physician-scientist. The research training may be either laboratory-based or clinical, and focused on basic or translational research, disease pathobiology, diagnostics, therapeutics, or prevention. Our scholars interact with established mentors nationwide. Click here to learn more and to apply by July 1.
If you have questions about the SMFM/AAOGF Research Scholarship Award, please contact Michelle DiVito.
Garite Mini-Sabbatical Grants
This grant provides up to $5,000 in funding to one or more recipients for a research project or clinical experience with a mentor at another institution for up to eight weeks. Practicing MFMs and MFM fellows, including international members of SMFM, are eligible to apply. Click here to learn more and to apply by July 1.
Queenan Global Health Awards
In 2021, this program offers two opportunities for research and education in obstetrics within resource-limited settings: an investigator-initiated research award and a visiting teaching fellowship. Practicing MFMs and MFM fellows are eligible to apply. The goal of this program is to train future leaders in perinatal health to provide sustained advancement in obstetric practice in underserved areas around the globe. For more information or to read reports from previous awardees, visit the Foundation for SMFM website. The award amount varies by opportunity. Click here to learn more and to apply by July 1.
For questions about the Garite Mini-Sabbatical and Queenan Global Health Award programs, please contact Lolita Hampton at the Foundation office.